Opalware is one the most popular Crockery Material in 2022. Its Gift Set, Its Dinner Set, its Bowl , Mug come out of the factory with a very beautiful finishing. Here we Presents below the Top 3 Opalware Crockery Brands in India
Top 3 Brands :-
Borosil
LaOpala
Cello
Borosil
Established in 1962 with humble beginnings, we started life as the "Industrial & Engineering Apparatus Company Pvt Ltd" founded by Dr. Lele. Even at that time, the company had the lofty vision of being an internationally recognized scientific glass producer.
Many things have changed since then – however, our core remains the same – to provide our worldwide customers with solutions that improve their lives. Today, we function under two listed companies – Borosil Ltd, which consists of our consumer products and life sciences division, and Borosil Renewables Ltd., which manufactures and sells solar glass.
Borosil enjoys the patronage of millions of customers across India and the globe.
In fact, we are proud to say that our products touch our customer's lives in many ways, from school to the home to the workspace.
Borosil acquired Hopewell tableware Pvt. Ltd and acquired it brand Larah , which is one the biggest Opalware Crockery plant in India.
It is the Top Most Brand as per internet in Top 3 Opalware Crockery Brands in India
Check out the Borosil Larah Opalware Product catalogue and Products on the this Page
Larah by Borosil offers many Gift Set , Dinner Set, Mug Set Etc. Check out the Range by Clicking Below
LaOpala
LaOpala was launched in the year 1987 and has become one of the largest glassware brands in the country. Most of LaOpala products are made with vegetarian and bone ash free material.
You can get a lot of high-quality options under this brand that would add a touch of class and elegance to your dining tables.
The brand is ISO certified and also exports its products to several countries across the globe.
This LaOpala Aqua Spray Novo Collection Dinner Set is crafted with the best quality Opalware with advanced European technology to make it light and durable.
The sophisticated blue-toned flower prints add a minimalistic style to this set, making it perfect for when you invite guests over.
It comprises bowls, plates, rice plates, quarter plates, and serving spoons to enjoy a delightful dinner together.
LaOpala is the oldest Indian opalware Brand which is offering opalware Products from the very long time, It offers various Products like Dinner Set, Coffee Sets, Tea set Etc
Cello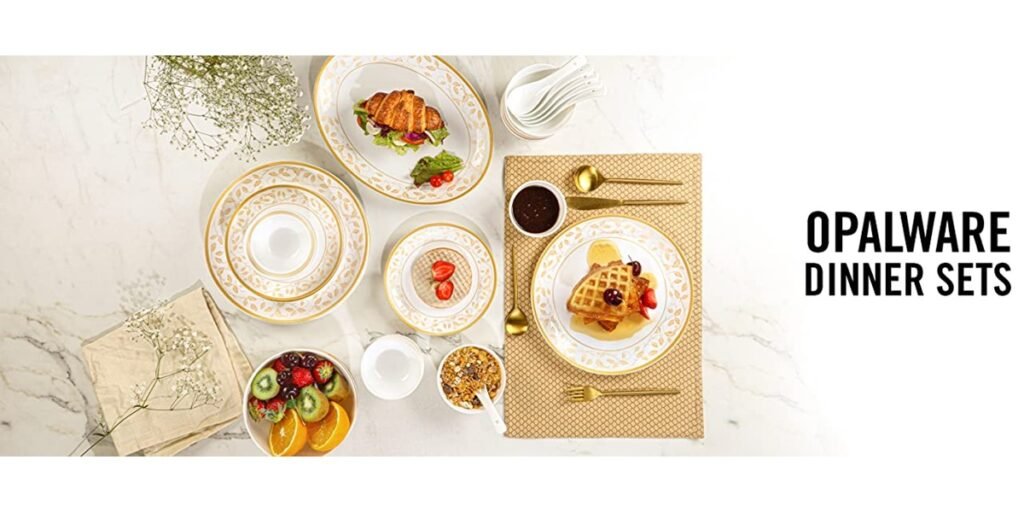 Cello is a famous stationery, homeware, and kitchenware company that was founded in the year 1986 by GD Rathod.
The brand was initiated with a small factory in Mumbai and slowly evolved to become of the largest companies in the country. We all have used Cello pens and stationery in our younger days and the brand always brings a sense of nostalgia to a lot of people.
The Cello Royal Gold Dinner Set will make your dinner tables look super-rich and sophisticated. The gold leafy prints with a bold border create a very stylish and modern vibe that fits perfectly in contemporary households.
Check out the Cello Opalware Products Catalogue and Its Product Store on this Page
Cello Opalware is Moving very aggressively in this market and soon it will come on the second Position