Kraft Stainless Steel Utensils by Vinod Cookware
Range of Steel Utensils Products offered by Kraft Steel
Vinod Kraft Hard Anodized Pressure Cooker
Vinod Kraft Aluminum Pressure cooker
Vinod Kraft Stainless Steel Dinner Set
Vinod Kraft Thali Set
Vinod Kraft Glass Set
Vinod Kraft Serve & Storage Set
Vinod Kraft StainlessSteel Jugs
Vinod Kraft StainlessSteel Canister Set
Vinod Kraft Spice Box
Vinod Kraft StainSteel Casserole
Vinod Kraft Triply Stainless Steel Deep Tasla
Vinod Kraft Triply Stainless Steel Deep kadai
Vinod Kraft StainSteel Plates
Vinod Kraft Rajbhog Plates
Vinod Kraft Halva Plate
Vinod Kraft StainSteel Bowls
Vinod Kraft Stainless Steel Deep Dabba
Vinod Kraft Stainless Steel Puri Dabba
Vinod Kraft Stainless Steel Tiffin
Vinod Kraft StainSteel lunch Box with bag
Vinod Kraft StainSteel Oil Dispenser
Vinod Kraft StainSteel Multi Purpose Container
Vinod Kraft Begi Plate
Vinod Kraft Beading Parath
Vinod Kraft Kanchan Bhog
Vinod Kraft Khumcha Plate
Vinod Kraft StainSteel Vati
Vinod Kraft Bhojan Thal
Vinod Kraft SaucePan
Vinod Kraft Tope
Vinod Kraft Mug
Kraft Steel by Vinod Catalog PDF
Buy this Brand Product Directly from your City ( Search the sellers of your city from below) || इस ब्रांड के उत्पाद को सीधे अपने शहर से खरीदें (नीचे से अपने शहर के विक्रेता खोजें)
Do You Sell this Brand Products ? || क्या आप इस ब्रांड के उत्पाद बेचते हैं ?
Register your self here (Fill the Form below) || यहां अपना पंजीकरण कराएं (नीचे दिया गया फॉर्म भरें)
All Registered Dealers Details will be shown on every Brand Page so that Customer can Contact You Directly || सभी पंजीकृत डीलरों का विवरण प्रत्येक ब्रांड पेज पर दिखाया जाएगा ताकि ग्राहक आपसे सीधे संपर्क कर सकें
Contact Details of Kraft Stainless steels by Vinod Cookware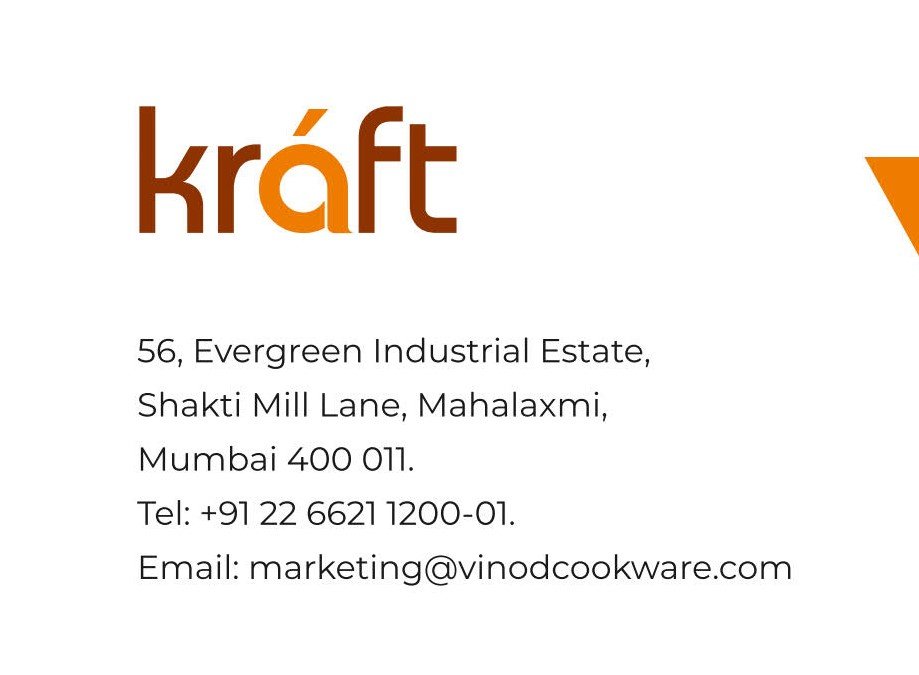 Kraft
56, Evergreen Industrial Estate,
Shakti Mill lane, Mahalaxmi
Mumbai 400 011
Tel:- +91 22 6621 1200-01
Email:- marketing@vinodcookware.com
More about Kraft (Source official Website)
Drawing on decades of experience serving Indian kitchens we present a range of serveware that is both durable and elegant. Crafted from the most flawless stainless steel available, the design and manufacturing of our products represent the very finest expression of our commitment to excellence.
Check Out the Milton Brand Store
Amazing facts
Which is the Best Stainless Steel Brand in India ?
Vinod is one of the best selling brands of triply stainless steel cookware.
What are main four Types of Steel
The Four Main Types of Steel
Carbon Steel. Carbon steel looks dull, matte-like, and is known to be vulnerable to corrosion. …
Alloy Steel. Next up is alloy steel, which is a mixture of several different metals, like nickel, copper, and aluminum. …
Tool Steel. …
Stainless Steel.
Which Steel grade is Best ?
Most stainless steel ordered around the world is Grade 304. It offers the standard corrosion resistance, formability, strength, and easy maintenance for which stainless is known. While 316 comes in second in terms of quantities sold, it offers vastly superior corrosion resistance to chlorides and acids.
Is stainless steel 430 food grade?
Stainless steel 430 is also a food grade stainless steel, though it contains only 16 to 18 percent chromium and is better used in applications where demand for corrosion resistance is only moderately high.