Grow Green Planters owned by Shree Shyam TechnoPlast New Delhi specializes in Planters having Special features likes
100 Percent Recyclable
Non Faded Color
UV Resistant
Light Weight
Frost Resistant
Check out the latest Catalogue of Grow Green Planters
For any Enquiry or Contact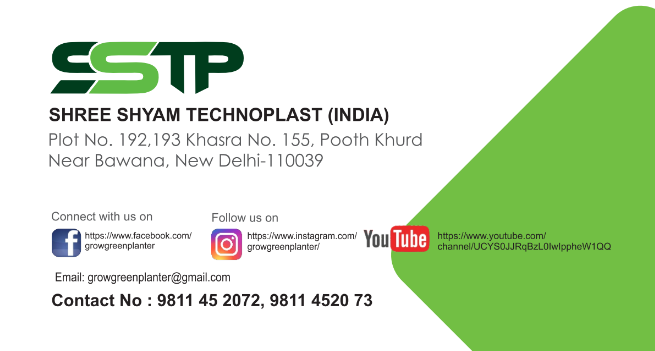 are plastic planters bad for plants?
Plants do not die in plastic pots. Growing plants in plastic has been proven to be a cost-effective efficient and safe method.
are plastic planters good for plants?
Plastic pots are constructed of inert materials and are safe to use for growing plants in.
What is the difference between a resin planter and a plastic planter?
Resin and Plastic Planters

Although plastic outdoor planters hold up well, they don't have the staying power of a more durable material like metal. Resin comes in endless shapes and colors, allowing versatility and the ability to experiment with different looks without the higher investment of more lasting materials
Do plants grow better in plastic or ceramic pots?
Plants in ceramic glazed pots generally grow better than plants in plastic, metal, or terracotta pots. The main reason is because the soil in the ceramic pot is able to absorb moisture better and it won't dry out as fast.
Which containers are best for plants?
Pressed paper containers are a great choice when dealing with vegetables. These containers breathe well, promoting healthy root growth and improving aeration, as well as insulating the roots from temperature changes that might otherwise harm or stress your plants
Why is the color of plant pots important?
The color of plant pots is important because it can play a role in how much heat the pots will retain. Dark-colored pots will absorb more sunlight and retain heat longer than light-colored ones. The color you choose should depend on the climate conditions in your area