Aristo Plastic Catalogue Pdf | Tag Line :- World Class Plastic Ware
A Government Recognized Export House
ISO 9001:2015 Company
Range of Houseware Products offered by Aristo Plastic | Aristo Houseware
Aristo Plastic Catalogue PDF | Aristo Houseware Range
Buy this Brand Product Directly from your City ( Search the sellers of your city from below) || इस ब्रांड के उत्पाद को सीधे अपने शहर से खरीदें (नीचे से अपने शहर के विक्रेता खोजें)
Do You Sell this Brand Products ? || क्या आप इस ब्रांड के उत्पाद बेचते हैं ?
Register your self here (Fill the Form below) || यहां अपना पंजीकरण कराएं (नीचे दिया गया फॉर्म भरें)
All Registered Dealers Details will be shown on every Brand Page so that Customer can Contact You Directly || सभी पंजीकृत डीलरों का विवरण प्रत्येक ब्रांड पेज पर दिखाया जाएगा ताकि ग्राहक आपसे सीधे संपर्क कर सकें
Contact Information of Aristo Plastic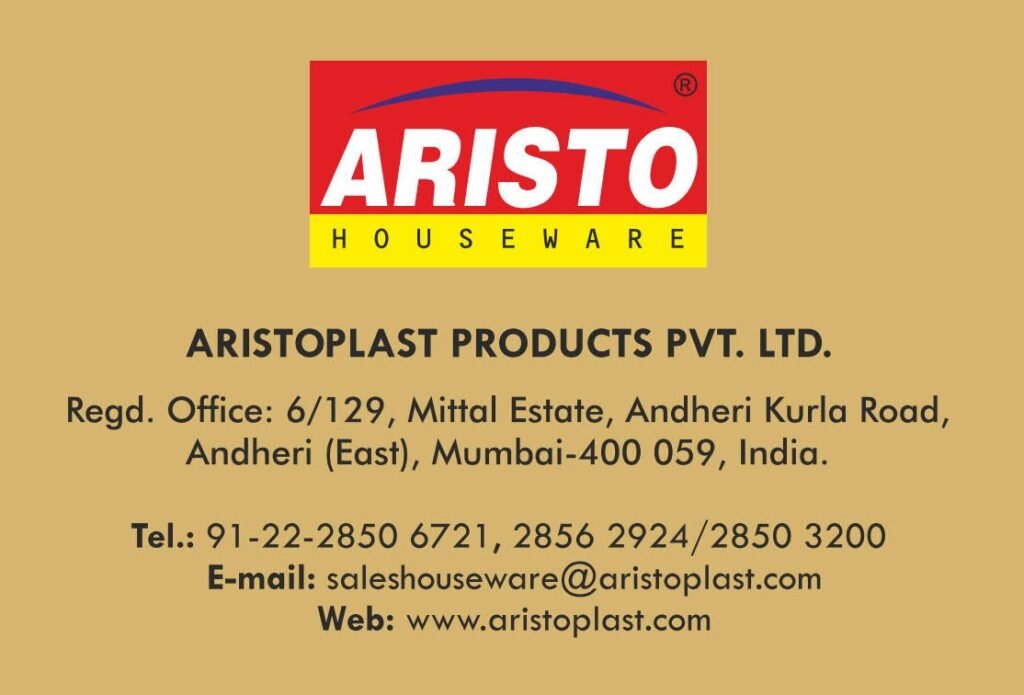 129, Mittal Estate, Sanjay Building No. 6, Andheri – Kurla Road, Andheri (East), Mumbai – 400 059. (Maharashtra – INDIA)
+91-22-28506721 / 28562924 / 28503200 / 9323850277
Company Profile ( Source Aristo Plastic Website)
Having vast experience of around 39 years, Aristoplast Products Pvt. Ltd. (formarly known as Aristo Exports) has led the plastic industry to amazing heights of success. Since the inception of company in 1982, we are worldwide recognized as the leading manufacturer, supplier and exporter of a variety of international standard products.
All the products provided by us are cent percent durable and sustainable for a longer period of time. Their sturdy construction and excellent performance make them wide in demand among a number of worldwide customers. We are an ISO 9001-2008 certified company. We are the members of All India Plastics Manufacturers' Association (AIPMA) and Plastic Exporters Promotion Council (PLEX) that has also raised the status of the company in the industry.
Our comprehensive range of products are Dust Pans, Sprayers, Wheel Waste Bins & Swing Bins, Water Jugs, Fridge Bottles & Trays, Glass & Jug Sets, General Crates, Dairy Crates, Jumbo Crates, Fruits & Vegetables Crates, Pallets etc. Expanding our business operations, we entered into the business of material handling of crates in the year 2008 so that we could meet our customers' distinct requirements successfully.
Over the past many years, we have exporting all kind of household, industrial, pharmaceutical, and many other injection & blow molded products to many countries all over the world. We received an award for the 2nd largest exporter in plastic from India last year, which shows that our products are widely chosen not only in India but are also widely chosen by foreigners.
We have a large network of around 400+ distributors and wholesalers all over India. Our products and services are widely chosen by numerous well known clients that include Future (Pantaloon) Retail (India) Limited, Aaditya Birla Retail Ltd, D-mart, Hariyali Kisaan Bazar, etc.